Everyday Life in Your Cottage
Bergen Gardens offers a dementia-friendly community where people living with cognitive challenges such as Alzheimer's disease or other dementias, feel safe and supported by the people in their community. With a uniquely designed environment, we focus on balancing quality of life with safety. The 48 private health care suites are grouped within four Cottages of 12 people in each. Elders all have their own private bedroom and bathroom, and share a common area with kitchen, dining and living rooms. Each Cottage is its own neighbourhood, and plan meals and activities as a group.
Families can take comfort in knowing that Bergen Gardens will retain specially trained staff, working 24 hours a day, seven days a week, devoted to a Person-First philosophy to ensure the safety and wellbeing of the people who live there.
Quality of Life
Cottage members have the opportunity to utilize all of Bergen Gardens leisure and common spaces with the support of wristband technology, which ensures safety and security 24 hours a day. We believe that when people are surrounded with opportunities to connect with pets, nature, and people of all ages, that they will continue to thrive and grow as a person. Our partnership with Alzheimer's Society of Manitoba ensures we are able to optimally implement best practices for those living with dementia, as well as their families.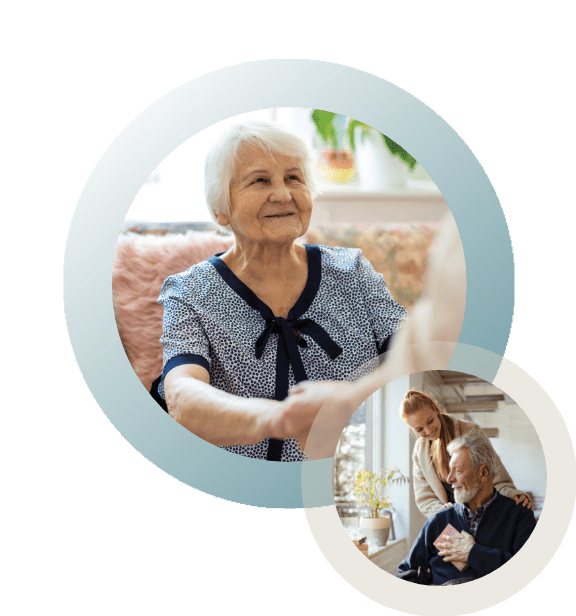 Integration
Studies have shown that those living with cognitive impairment can rapidly decline as soon as they move into an institutional care setting. Part of the reason for this is that institutions depersonalize the individual and their care needs become a task on someone's list for the day. Well-meaning staff in that setting are efficient and want to speed up the process of care, typically taking over the tasks, doing everything for their client rather than helping them be independent. As a result people may lose the ability to take care of themselves, others and even their pets. Without these productive daily activities, they lose a sense of purpose and may decline very quickly.
At Bergen Gardens we support our citizens, regardless of their care needs, to help them keep up their daily routines from home if they are physically able to, and if it still brings meaning and purpose into their life. We work with our citizens to carry out these tasks at a time of their choosing rather than what is convenient for us. Some examples of tasks we assist with include: cooking meals, assisting with laundry, cleaning their own suite, interacting with others in the community, participating in leisure offerings, caring for a pet, and much more.
Trained to Intervene
Special care is taken to ensure that all Care Partners and those living at Bergen Gardens—whether it's a spa worker, fitness assistant or a next-door neighbour—are educated and get comfortable with how to accommodate or assist should a challenging situation arise. As a dementia friendly community, we understand that all behaviour has meaning and when we know people really well, we are able to adapt our responses to meet their needs at every level.
Leaving Safe Environment
Over time, a person with dementia may have trouble problem-solving, communicating and recognizing their surroundings. As a result, they are at risk of becoming lost, even in familiar places. We understand that all behaviour has meaning and sometimes when a person starts out on a journey to a place they have in mind they may leave their home suite. Our responsibility in such a situation is to ensure their safety, and if they need to make that journey we support them by getting them back to their suite safely. The wayfinding and navigation of Bergen Gardens has been designed with that practice in mind, providing pathway end points, and features to help the person pause and find features of interest.
Security
While there will be the use of technology and wristbands that trigger alarm notifications to Care Partners in particular areas of Bergen Gardens, our citizens will also have the opportunity to enroll in the Safely Home program. This program is endorsed nationally by the Alzheimer's Society of Canada. The program assists in helping to identify a person with dementia who is lost in the greater community and ensuring they are returned home safely in a timely manner. Being proactive, all Care Partners at Bergen Gardens are also specially trained in the proper steps to follow to locate missing elders.