Our Senior Living suites, contained in a six-storey apartment tower, offers 149 assisted living suites in a variety of layouts including studio, 1- and 2-bedroom
Ideal for the independent living senior who wants a living experience tailored to their preferences and capacity.
The apartment building is divided into five Neighbourhoods:
Grassroots Road: 2nd floor
Tuscany Court: 3rd floor
Sunflower Lane: 4th floor
Blue Sky Bay: 5th floor
Sunset Boulevard: 6th floor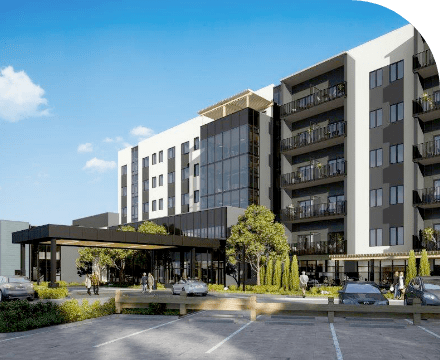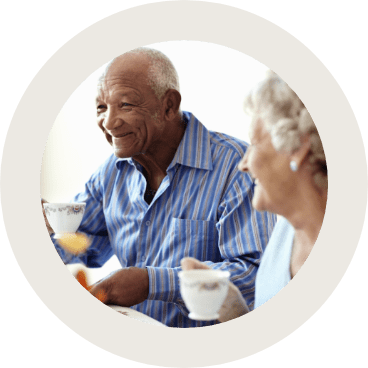 Neighbourhood Common Areas:
Every floor or Neighbourhood includes a Common Area. With floor-to-ceiling windows and exposed timber columns and ceilings, the Common Area offers a homey and relaxing atmosphere to reflect on your day, read a book, have neighbourhood meetings, or chat with friends over coffee. Each Neighbourhood floor also has commercial size laundry facilities for those without in-suite laundry.
Services
Bergen Garden Senior Living options include adding services as needed (at an extra cost), and include:
Select up to two meals per day from the main floor dining room (can be eaten in, take-out, room service or patio dining)
Order guest meals
Light housekeeping available on a weekly basis
Scheduled wellness checks by qualified nursing personnel (for short term or ongoing)
You are free to upgrade your package any time to include underground parking, more meals or have salon or health care offerings delivered by qualified, specially educated care partners in the privacy of your suite. Enjoying enhanced services gives you more time to relax, pursue a new interest and make new connections. Speak to a staff member today to get more information about the services we provide.
Our hope is that you can live in your Senior Living suite indefinitely with the right support but sometimes situations change, and health challenges become overwhelming. We want you to know that we have got you covered with access to health care staff 24 hours per day and work in partnership with you to plan care that works for you.